Our New Hampton Beach Suites Will Dazzle You!
In 2015, your hosts, the Rages, built
the strip's first new property in decades, The Pelham Suites from the bottom up, right next door!
The brand new, six spacious suites are nearly 500 square feet each, twice the size of an average hotel room, and can accommodate up to 6 guests. All second and third floor suites boast a balcony, expanding the living area nearly another 100 square feet.
Each unit is equipped with a flat screen TV, air conditioning, and daily housekeeping to make your stay comfortable and relaxing. Complimentary WI-FI is provided in the social area should you want to check email or post a real-time vacation FaceBook status. You can also swim in the outdoor heated pool or BBQ in the common space. A continental breakfast is served every morning in the front lobby.
Tired of eating out? Make light snacks or complete meals with a fully equipped kitchenette in each room that includes a refrigerator, convection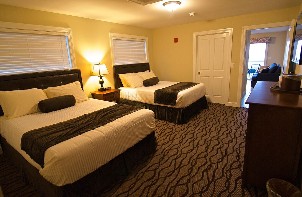 oven with microwave, coffee maker, seamless solid surface countertops, and a full complement of kitchen accessories needed for whipping up a delicious meal.
The crowning jewel of the Pelham Suites is the spectacular rooftop deck, which spans the length of the property, overlooking the marsh with its vast wildlife on one side and the sparkling blue ocean on the other. Seating on the deck includes tables for snacking, chaise lounges for sunning, and deep cushioned conversation sofas in the shade for quiet moments.
All in all there is no better spot, no better value anywhere on Hampton Beach!